John Denver was a very complex man. He had his share of problems. He had two failed marriages. He got charged for drink driving twice and he also admitted in 1974 that he smoked marijuana.. But all in all he was a wonderful person.Some of you may say why put that in.Well It was all true.The only thing that John really told people by coming out and telling the world the truth is that he was HUMAN , Like the rest of us.He had all the trimmings of a Rich person.But the thing I noticed about John was maybe he was rich & famous but he never acted any different to you or me.He aways had time for everyone he met.It did not matter the color race or creed.We were all one big family according to John.All of us are sister's & brother's. And John was someone who tried with all his might to make the world a Safer & Better place to live. I think if everyone was more like John, we could make the world a better place. John would want each and every person to try their hardest to change things not only for our generation but for all future generation's.I know all of you who are reading this will agree with me and do your hardest to try and make the world a better place .Do not let any one put you down for trying. Hold your heads high.Just like John did.
Not only was he a very popular singer song writer he was also a poet, humanitarian , environmentalist , Actor & an all round decent man. On February 23 & 24, 1995 John did a Concert Called The Wild Life Concert and had it put on Video so it could be sold and the proceeds donated to the Wild Life Foundation.
John was in a number of movies & TV Specials.
John Denver Christmas
John Denver: The Wildlife Concert
John Denver: A Portrait
Rock and Roll Call
Oh God
The Left Overs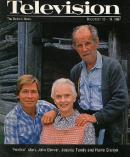 Foxfire
A Christmas Gift
Video Love Songs
Higher Ground
Walking Thunder
Lady Liberty - A Musical Salute to America and Freedom
He appeared on TV shows With the Muppets, Frank Sinatra,Merv Griffin, Dennis Weaver, Doris Day, Jacques Cousteau Specials. And many others. Was a regular guest on the Ray Martin show when in Australia. John Wrote his hit song "Calypso" for Jacques Cousteaus ship the Calypso.John also wrote the song "Flying For Me" for the crew of the Challenger Space Shuttle, which exploded shortly after take off on
January 28, 1986.
Montana Christmas Skies
John Denver's Christmas in Aspen
In Concert at the Met
The John Denver Show
The Higher We Fly
The John Denver Show: A Family Event
John Denver and the Ladies
John Denver's Rocky Mountain Reunion,
J.D. and the Muppets: A Christmas Together
J.D. and the Muppets: Rocky Mountain Holiday,
John Denver in Australia
John Denver in Alaska: The American Child
Thank God I'm A Country Boy
John Denver: Music and the Mountains
John Denver and Friend
John Denver and George Burns: Two of A Kind
The 1st John Denver Picture Show
An Evening With John Denver
Rocky Mountain Christmas
Bighorn!
The Eagle and the Hawk
John Denver had Many Gold & Platinum Albums
In the US alone he had 14 Gold And 8 Platinum albums.And he had 9 Gold And 3 Platinumalbums in Australia. Some of his singles also hit Gold. 6 in the USA And 8 here in Australia. In total John Denver recorded over 37 albums during his career.
He was a great pilot, he had over 2000 hours of flying on the clock .He was going to be the first civilian to go up in space. But it got changed to a school teacher, but unfortunately the space flight ended in tragedy. More on that later.
On October 12(in the USA)October 13 1997 (here in Australia) John Denver 's Long EZ plane crashed in Monterey Bay California. Killing John instantly. John left behind his mother Erma, brother Ron & his three children Zachary 23, Anna Kate 19 &
Jesse Belle 8 .
The world has truly suffered a loss with his death. But remember he is still with us.
Here is a list of Triubutes that have come out since John left us.
ESPN Tribute
TNN Special life and Time of John Denver
VH1 Special John Denver Behind The Music
E! True Hollywood Stories John Denver
The John Denver Story.